Last updated on 5 July 2022
Apple and Microsoft are arguably the biggest names in the tech space and users are always looking forward to their new offerings. Recently, Microsoft launched their Surface laptop known as Surface Laptop 4 while Apple introduced MacBook Air M1, which is chip powered, last year. There is no denying that these two powerful and compact laptops are the most compelling in the market in 2021.
But how are these two laptops different from each other and which is better? Well, in this article, we will take an in-depth look at their features to see how they compare.
Summary of the Specifications
Specs based on the starting models
| | | |
| --- | --- | --- |
| Model | MacBook Air M1 | Surface Laptop 4 |
| Operating System | macOS | Windows 10 or 11 Home or Pro |
| Processor | 8-core M1 | AMD Ryzen 5 4680U |
| GPU | 7-core Integrated (8-core on higher models) | 6-core AMD Ryzen Microsoft Surface Edition |
| RAM | 8GB | 8GB |
| Storage | 256GB | 256GB |
| Resolution | 2560 X 1600 | 2256 x 1504 |
| Dimensions | 11.97" x 8.36" x 0.16-0.63" | 12.1" x 8.8" x 0.57" |
| Webcam | 720p | 720p |
| Ports | 2 USB-C Thunderbolt 4 | USB-C and USB-A |
| Touch Screen | No | Yes |
| Battery Life | 15 Hours | 19 Hours |
| Weight | 2.8 lbs | 2.8 lbs |
| Biometrics | Touch ID | Windows Hello |
| Price | $999 | $999 |
Dimensions
For the design, MacBook Air has a signature aluminum enclosure and is only available in Space Gray, Silver, and Gold colors. Microsoft's Surface 4, on the other hand, comes in numerous colors like Matte Black, Platinum, Sandstone, and Cobalt Blue. Therefore, if you are after a device that exudes a premium look and feel, the Surface Laptop would be ideal.
In terms of size, the Surface Laptop 4 measures 12.1" L x 8.8" W x 0.57" and weighs 2.8 pounds while the MacBook Air measures 11.97" x 8.36" W x 0.16\0.63" and measures 2.8 pounds, similar to Surface 4.
Design and Displays
In terms of display, the Surface Laptop features the 13.5" PixelSense display while the MacBook Air features a 13.30" display.
The other difference is in their resolutions. The Surface Laptop has a 2,256 x 1,504 resolution screen and 201PPI while the MacBook Air is designed with 2,560 by 1,600 resolution and 227PPI.
Plus, while the Surface Laptop 4 has 10 point multi-touch and Surface pen support, MacBook Air has no touchscreen support. Instead, Apple's laptop has additional specs like a P3 color gamut display and 400 nits brightness. Overall, the MacBook Air is better in terms of the display while Microsoft Surface Laptop 4 takes the lead in design.
Performance
When it comes to performance, there is no doubt that Apple's MacBook Air fare better than Microsoft's Surface Laptop 4. MacBook Air is designed with an M1 chip on a 5-nanometer processor and includes 16 billion transistors. Simply put, the M1 processor has an exceptionally great performance compared to the Surface 4.
Also, MacBook Air's CPU has an 8-core design that delivers up to 3.5x faster performance than the Macs powered by Intel. The M1 chip can render multiple 4K timelines and 4K videos.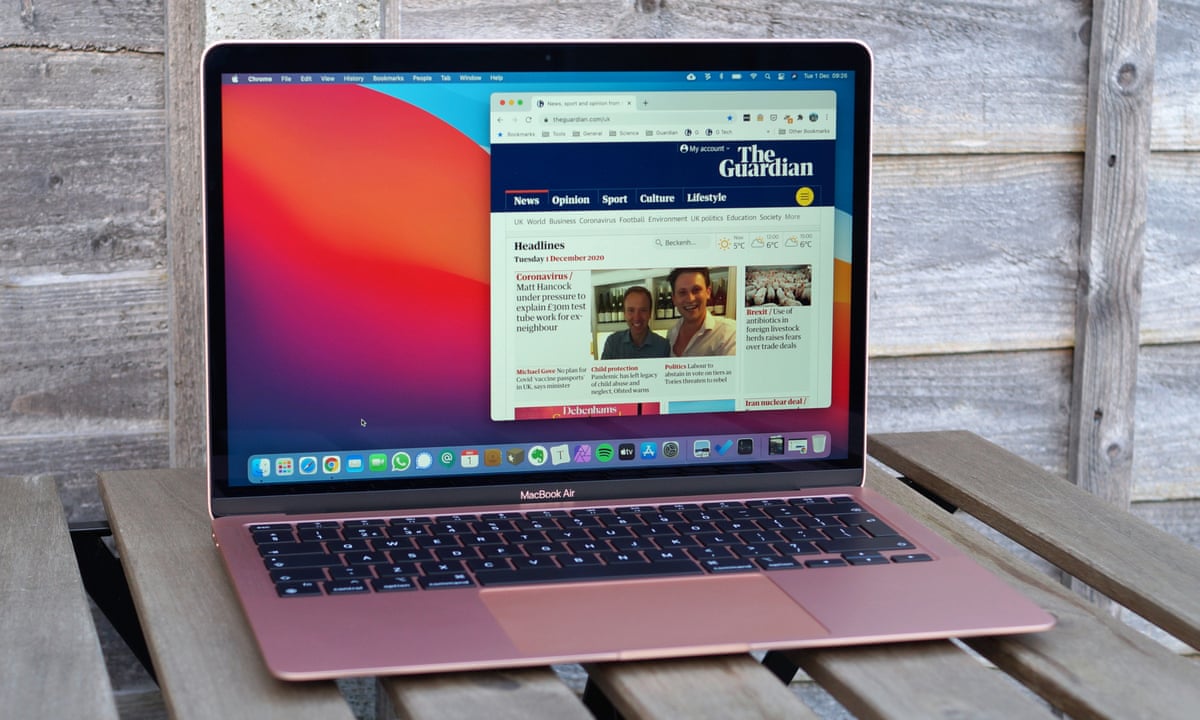 Microsoft designed a custom chip, AMD Ryzen 5 468oU for the Surface Laptop 4. While Microsoft tried to keep up with Apple's M1, their chip cannot compare to Apple's. The custom Microsoft chip used chips from the preceding generation as its base. This Surface 4 can be set up with an AMD Ryzen 5 4680U Mobile processor, an 11th-gen quad-core (Core-i7-1185G7), or the 11th-gen Intel quad-core Core-i51135G7 processor.
During Geekbench tests, the MacBook Air M1 garnered 1,693 points for the single-core tests and 7,195 on multiple cores. When Surface 4 was launching, the Core i51135G7 managed 1,270 points on single-core tests and 4,271 points on multi-core tests while the Core i7-1185G7 single-core garnered 1,428 points and 4,863 points for the multi-core tests.
Ports and Connectivity
When it comes to ports and connectivity of these devices, Apple seems to fare better than Microsoft. This is a bit unexpected since Microsoft is known for providing its users with more ports and better connectivity for it users.
The Surface 4 comes with one USB-A, one USB-C 3.1 Gen 2 port, a headphone jack, and a Surface Connect port that lets you charge your laptop quickly. On the other hand, the MacBook Air features two USB 4 ports that can serve as a 3.5mm headphone jack and Thunderbolt 3 connectivity.
The two USB-C ports are a win for MacBook Air when compared to the one USB-A and USB-C in Surface Laptop 4. Plus, the Surface Laptop 4 omits the Thunderbolt and this could be a deal-breaker for some.
Besides, the MacBook Air does a good job well in the area of connectivity thanks to the 40Gbps of bandwidth. On the other hand, the Surface 4 laptop only offers 10Gbps on the USB-C connection while the USB-A Connection offers 5Gbps.
This means that the MacBook Air is unmatched Connectivity-wise, especially in 2021. Nonetheless, your choice between the two will depend on your current and future needs.
Keyboard
Something to keep in mind when deciding between these two laptops is the keyboard. With the MacBook Air, you get a Scissor keyboard mechanism that is much better than the Butterfly keyboard mechanism on the previous MacBook generations.
This is also much better when compared to the keyboard of Microsoft Surface Laptop 4. Microsoft designed this keyboard to be flat, making it less appealing to most people.
Pricing
The entry level Surface 4 comes with 8 GB RAM, Ryzen 5, and 256GB of storage and costs $999. For the Surface 4 that comes with 11-gen Intel core i5- 1135G7, you will need to part with $1,299. On the other hand, the MacBook Air M1 comes with 8GB RAM and 256GB storage costs $999.
Conclusion
So ultimately, Microsoft's Surface Laptop 4 and Apple's MacBook Air M1 have different aspects in terms of design, dimensions, operating systems, performance, battery life, and connectivity and ports. Clearly the MacBook Air is the winner here by performance and quality of the components.
When it comes to all the important features, MacBook Air M1 has an edge over Surface 4. Nevertheless, they are both compact and your choice will depend on your specific needs. You just need to compare the pros and cons of each model and make your selection.
If you want a more in-depth comparison, you can check out this review video done by Max Tech: