Last updated on 5 July 2022
The newest version of Apple's software is iOS 15. For developers, the beta version was released on June 7, for public beta testing on June 30, and the launch was on September 20, 2021.
Best iOS 15 Tips and Tricks
The new version has many new features and here, we will cover the most useful iOS 15 tips and tricks, as well as some novelties that you can use on iOS devices with the iOS 15 operating system.
Note that some older versions of iPhones will not be able to see all of the new features of the new iOS, but generally, it will work on almost any iOS device.
If you're interested in other topics, feel free to check out the most useful Apple Watch tips & tricks here.
Compatible Devices
The first thing you surely want to know is which devices are compatible with the iOS 15 version. Basically, every iPhone running iOS 14 will support the new version as well. Following is a list of the devices that are compatible with iOS 15.
iPhone 6s and 6s Plus
iPhone SE (original model and 2020 version)
iPod Touch (seventh-generation)
iPhone 7 and 7 Plus
iPhone 8 and 8 Plus
iPhone X, XR, XS, and XS Max
iPhone 11, Pro, and 11 Pro Max
iPhone 12 mini, 12, 12 Pro, and 12 Pro Max
iPhone 13 mini, 13, 13 Pro, and 13 Pro Max
FaceTime App
There are many great changes to FaceTime calls. For a clear overview, here is a list of iOS 15 tips for the FaceTime app.
FaceTime Links: create a FaceTime link for a call you are planning to make in the future. You can send the link to anyone, via an app.
Both Android and Windows users can now click FaceTime Links and join FaceTime calls online. They cannot start a FaceTime call, though.
In a FaceTime video call, spatial audio separates voices so you can hear each of them clearly.
There is a grid view where all the participants are the same size. The one who is talking is highlighted.
Isolation Mode gets rid of your background noise.
Wide Spectrum includes all the sounds around you.
Portrait Mode blurs your background to leave you in focus.
FaceTime notifies you if you are muted while you speak.
You can see a detailed explanation of how to use the new FaceTime call features here.
Siri Works Offline
After so many years, the time has finally come for Siri to work without an internet connection. As long as there is no need to get online to perform your request, you can use Siri offline. The tasks may be to set up an alarm or timer, read and send messages, turn on the Dark Mode, edit settings, etc. For now, offline Siri is available only with the English language.
iCloud Upgrade
Though there aren't any special changes in iCloud, there are upgrades that will make it even more useful.
There are new privacy features which were charged for in previous versions of the software. They are Home Kit Secure Video support, iCloud Private Relay (hiding your IP address, location, and browser history), and email aliases.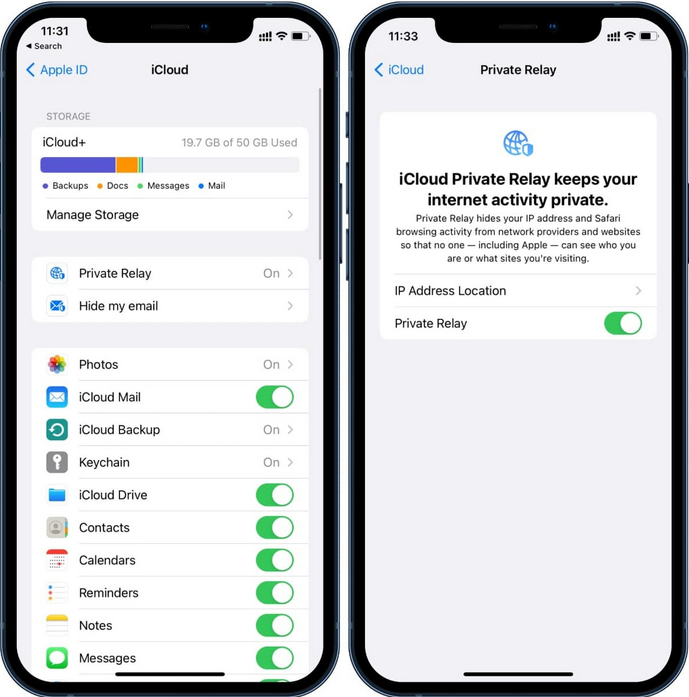 Also, there are changes in the iCloud backup for those who aren't paying for it: free space in a temporary iCloud storage for up to three weeks. But you have to upgrade to iOS 15 after the said period.
SharePlay
Screen sharing is a possibility with the SharePlay feature of iOS 15. When you are FaceTiming with someone, you will have the option to share your screen so you can watch movies or listen to Apple music together with anyone on the call.
To enable this feature, once you are in a FaceTime call, you need to click the SharePlay button in the top right corner of your screen.
For a tutorial on how to start a watch party on a FaceTime call, view below:
Photos App
The Photos app refinements include the following:
Creating Memories is improved by adding suggested songs to be background sounds for what you are creating. It may be a song from the period of the picture or something you were listening at the time of taking the picture. All the songs are taken from Apple Music.
There are new transitions and animations in Memories. You can use those to edit a Memory in real-time.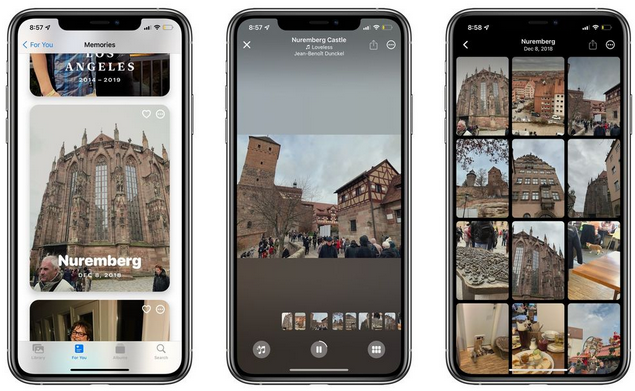 Focus Modes For Work
This is a new feature that comes with iOS 15. You can choose or create a Focus Mode in Control Center. The purpose is to limit the work of chosen applications during an activity.
There are some predesigned modes for sleep, work, reading, driving, etc. When you create a focus mode, you can choose which applications should work normally and which will be silenced.
All your connected devices will be in the same focus mode when you turn it on on one of them.
To enable one of the modes, access the Control Center, then make a long press on the focus button, and choose a mode. You can also find the Focus option in the Settings App. One of my favourite iOS 15 tips.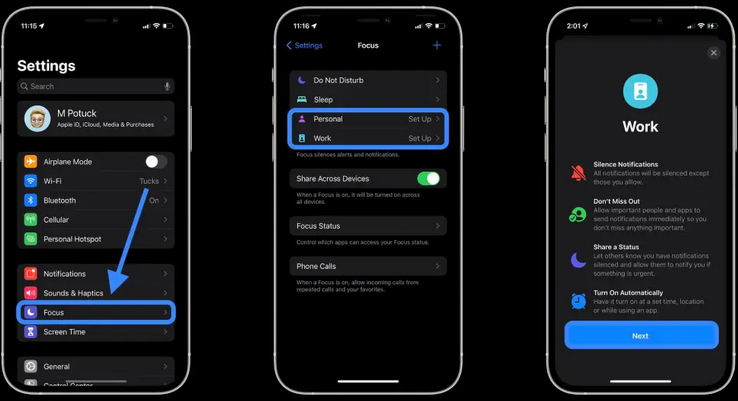 Safari App
The Safari browser has a new design – now the tabs are at the bottom of the screen. To switch tabs, you can swipe left or right. Also, if you swipe down from the top, you will refresh the page.
A great addition is a possibility to group tabs. And that is synced all your connected iOS devices.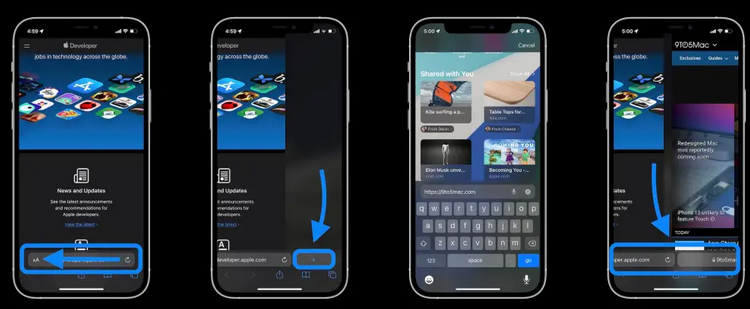 Weather App
The Weather app is improved. Now, it has even better-animated backgrounds. The different ones that come in triple-digit numbers, show the state of the weather outside even better than before.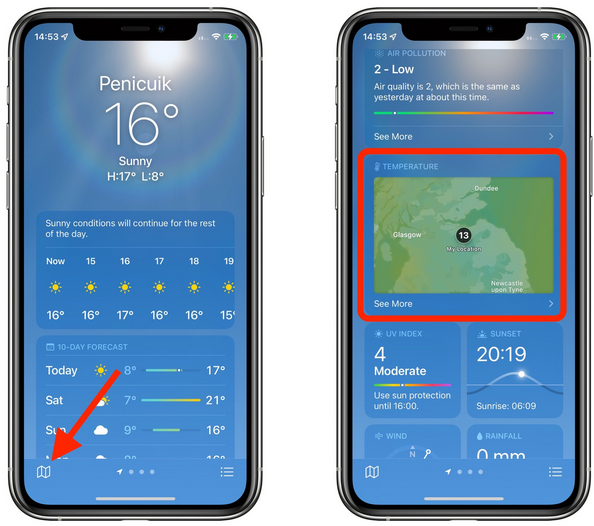 Moreover, the layout of the app now shows more info, such as a forecast for the next 10 days, new map modules (for precipitation, temperature, and air quality), and weather graphics.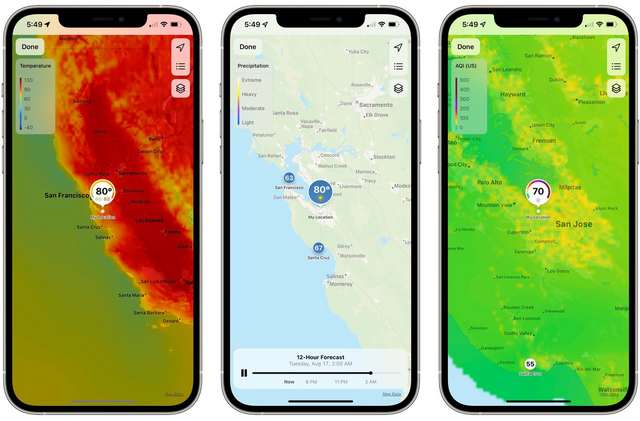 Live Text Capture
Apple devices with iOS 15 can now use the feature Live Text to find words and numbers on images you see on your iPhone screen. This works on the images you already have on your phone, on images on the web, and even when you point the Camera app into an object.
When a text is identified, you can manage it like any typed text (copy, paste, call phone numbers, etc.).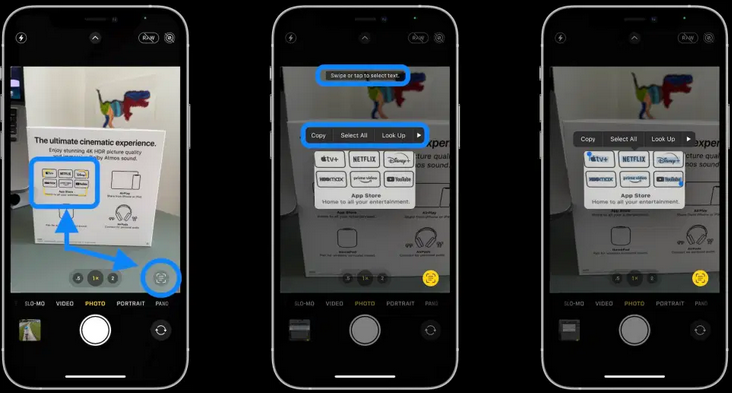 This feature can also recognize animals, books, and many other objects.
Notification Summary
Notification Summary on iOS 15 devices is a new feature that groups all your notifications and show them to you when you choose to see them. With it, you won't have to deal with a bunch of notifications ringing from your phone all day long.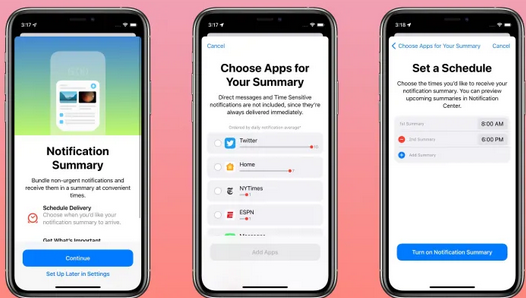 New Widgets
iOS 14 added widgets as a new feature. Now, in iOS 15, the offer is expanded to include Contacts, Mail, Sleep, App Store, Game Center, and Find My.
Also, there is the Widget Smart Stacks that recommends new widgets based on the apps you use most often.
Background Sounds
You can set background sounds to play from your iOS 15 device. The options are rain, stream, ocean, dark noise, balanced, and bright.
To enable this, go to the Settings app – Accessibility – Audio/Visual – Background Sounds. Here you can turn it on or off, choose the preferred sounds, and manage the volume when another media is and is not playing.
Below you can watch a quick guide on how to set up background sounds:
Drag and Drop Files Across Apps
There is a very useful iOS 15 feature that enables you to drag items between apps in a simple way.
Hold a text, image, or file you need until a pop-up menu shows up. Then drag the file up, which will enable drag mode. Keep holding it with one finger and use another finger to open the target app. When you do that, just drop the file.
To see how this feature works in practice, watch below:
Messages App
The Messages app brings novelties in iOS 15 as well. Let's see what they are.
When you turn on the Do Not Disturb focus mode, the status will show that in the app. If someone wants to send you a message, they will be notified that you cannot respond. They can choose whether to proceed, in which case you will get the message and be notified despite the DND focus mode.
Photo Stacks groups sent photos to avoid spamming the chat with each photo in one line.
The Photos app takes photos from the Messages app, so you don't have to do that manually anymore.
You can also pin messages in order to keep the things you want to revisit later.
Wallet App
Apple has a goal to succeed in digitizing the whole wallet in order to make the physical object unnecessary for us to carry on us.
In iOS 14, the Car Keys feature was introduced. In iOS 15, it was improved to include hotel keys and passes. In some US states (Arizona, Connecticut, Georgia, Iowa, Kentucky, Maryland, Oklahoma, Utah) you can also use the digital version of your driver's license from the Wallet app.
Check out the Wallet app reveal here.
Health App
There aren't many changes to this app in iOS 15, nor are they big, but they are certainly useful.
Health metrics can be shared with another person. Even alerts can be added to warn them of your state if it becomes dangerous.
Some providers of health care can send you results via this app, where you can see the results and their explanations.
Walking Steadiness is a new feature that measures the details of your walk (pace, stride, cadence, etc.) and warns you if you are likely to fall down.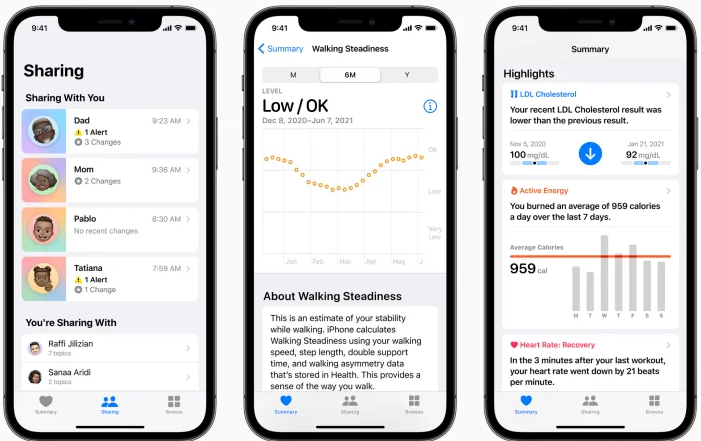 Apple ID
Apple's Digital Legacy program, which includes the closest family member or a friend, gives them access to your phone in case of death. This is achieved through Apple ID.
Also, if you cannot unlock your Apple device, one of your Legacy contacts can give you a safety code to regain control of your device.
To set up a Legacy contact, go to the Settings app – [your name] – Passwords &Security – Legacy Contact, then follow the cues.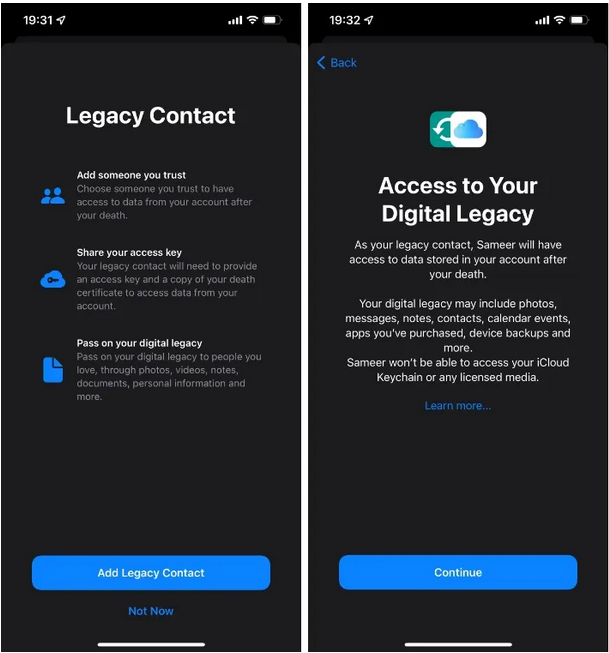 Find My
The Find My app helps you locate your Apple device even when the battery insufficiency makes the device turn off automatically. Also, if the device is stolen (the situation when a thief would probably turn it off), this app can help you find it.
Another great thing about this app is that the connected devices can be found even if they were deleted from the list. This may come in handy if someone tries to sell a stolen device.
And one more – the Separation Alert notifies you when your devices are separated. Isn't this great?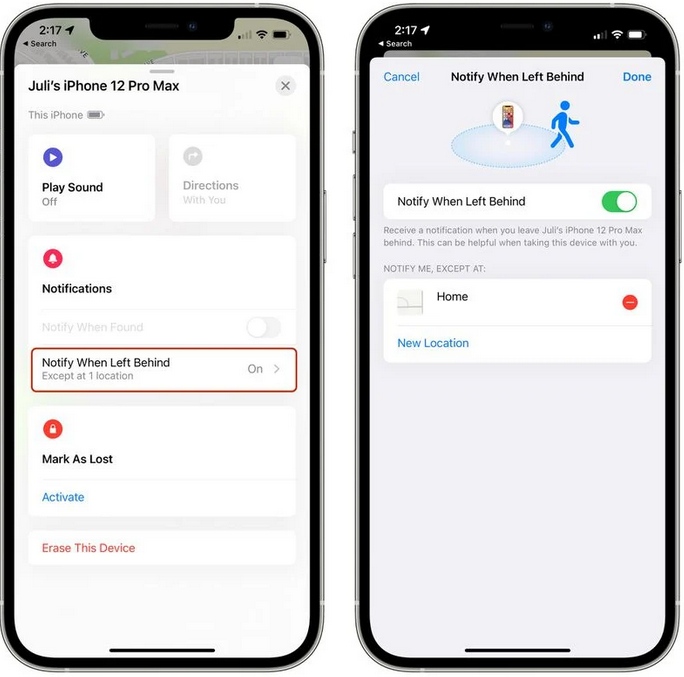 Hide My Email
There are situations when you don't want to use your real email. In that case, the iCloud+ subscription gives you the possibility to use a disposable email address which you can manage as you wish (activate or deactivate, delete).
To enable this feature, to go Settings – Apple ID – iCloud – Hide My Email. Having enabled this feature, you can go to the Mail app and send a message. The receiver will not see your real address.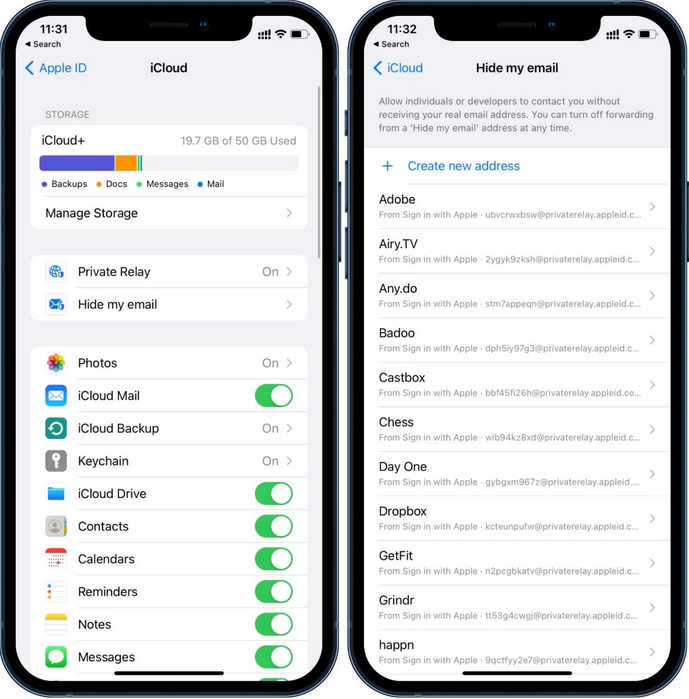 Summary on iOS 15 Tips & Tricks
The new version of Apple's operating system – iOS 15, has many exciting new features. This text has gone through some major iOS 15 tips and tricks.
Many iPhone users, those who already have an Apple device and those who have just bought a new device, will be very happy with exploring them.
There is even something for Android and Windows users (remember the FaceTime app?). Well, I will leave you to enjoy yourself and possibly discover even more new iOS 15 features.
Please feel free to go see my other blog 39 Useful iPhone Tips & Tricks 2021.
Related