You have just received your first Apple Watch. The first thing you need to do is to learn essential moves, set up your preferences, configure the built-in apps and install some new ones in order to make your Apple Watch work your way.
Having mastered the basics, you are now ready to learn about some cool tips and tricks that will help you be more organized, productive, enjoy the experience of using your Apple Watch to the full and make maximum use of it.
Some of the salient features of the Apple Watch include Siri, stopwatch, music, calendar, apps for workout, passbook, remote camera, Apple TV, apple health app and world clock. But that's not all. Let's dive right in.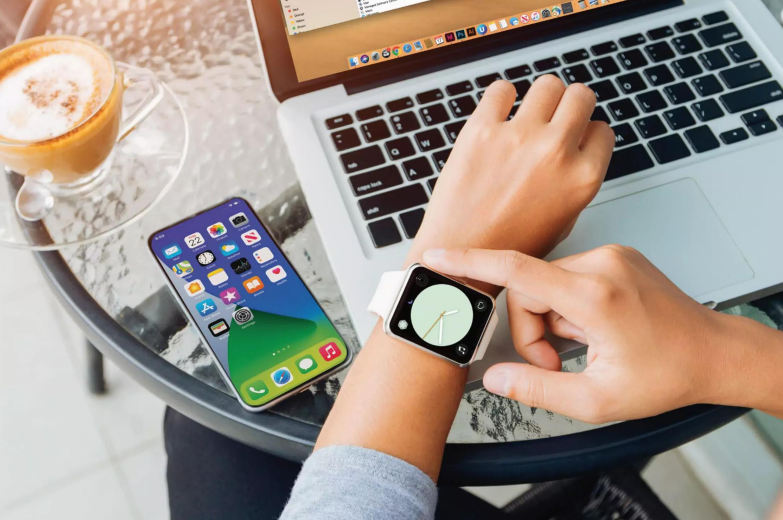 Best Apple Watch Tips and Tricks
Pairing Apple Watch and iPhone
Apple Watch can communicate with iPhone via Bluetooth or Wi-Fi which has a greater range than Bluetooth, but requires more power, so it can reduce battery runtime. Apple Watch requires iPhone for setup, management, Internet access, phone calls and e-mails and you can always pair or unpair apple watch by going to the Watch tab.
The pairing takes around 10 minutes and your iPhone should be connected to the charger and to a Wi-Fi network. To pair the two, press and hold the side button on your watch and tap the screen when details appear on the apple watch screen. Press Home on your phone, then Apple Watch.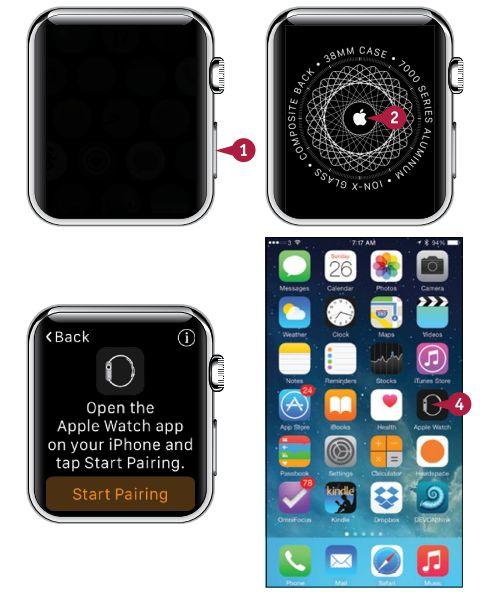 Dictating Text with Siri
Siri is the only personal assistant you will ever need and it obeys any commands you set. Being able to use Siri is one of the most integral parts of the experience.
You can use Siri to automate tasks, switch between apps, dictate voice commands, etc. Apple watch owners understood the significance of it and made it integral to the Apple Watch series. The option is also available to third party apps.
In essence, you'll never need to use your hands on the Watch. Open the app launcher on your Apple Watch, go to the Settings menu and select the Siri tab. Enable Siri on your device with a simple "Hey Siri" voice command. Now you are ready to use it.
Managing Your Friends
Add your favorite contacts to your Apple Watch friends list so you can interact with them quickly. Tap the Friends app to get started. Scroll down the list of your friends and tap Add Friend. Next, browse through your list to find the person you want to add. Tap their name and add them to your friend list.
You can also rearrange your contacts or remove them from the list. Tap Edit to get started, tap the red button to remove contacts, use the grabber to change a contact's position and finally, tap Done when you have finished editing. You can sync the list with the iPhone app.
Making Phone Calls
The Apple Watch brings a feature of making calls. The watch will notify you when you have a phone call and allow you to see who's calling. Wake screen and just press the Answer button to accept the call. You can also switch the call to the iPhone device instead.
You can put a call on hold so you can continue it on the iPhone. To do that, simply tap the option to answer on the iPhone and it will put the call on hold until you answer it on your iPhone.
Placing a call on the Apple Watch is also quite easy. Press the side button to open the contact list and furn the Digital Crown to select one. Tap on the desired contact and after that on the call button.
Sending Messages: Pre-Set Responses
Like other Apple products, Apple Watch allows users to receive, read and respond to the text messages from the device. Users can select from a pre-set responses or they can dictate a new response, on the watch or iPhone, including punctuation marks. Long messages can be handled on the Apple Watch as well and it can be done by using the Digital Crown.
Messages can also contain audios and videos. Once you add an audio clip to the message, the audio clip icon will be displayed to notify the user that the message contains an audio clip. The receiver has to tap the icon to begin playing. The audio can be saved or deleted automatically after two minutes. Videos are embedded in messages in the same way.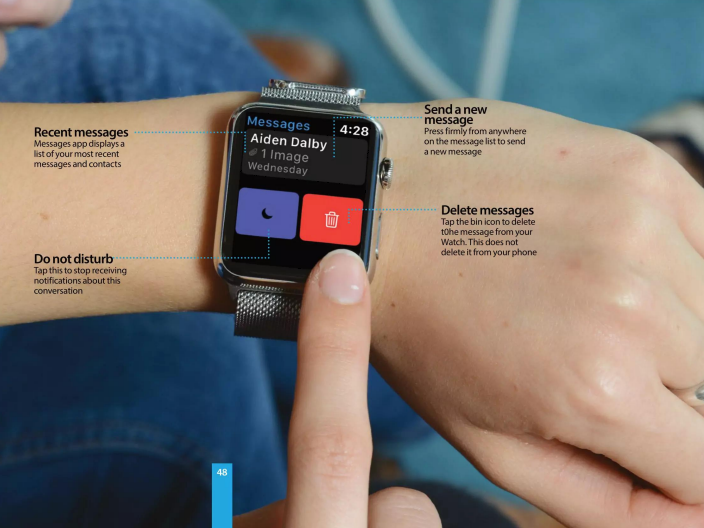 Replying With a Scribble
Now you can reply to a message by using Scribble. When you get a message, find the big Scribble menu and tap it. Using your fingers, draw letters in the big drawing black canvass. Tap on Space to add a space into the sentence. Once you are done, tap on the Done icon in the top-right.
Using Handoff
The handoff feature enables users to move seamlessly between devices without any loss of data. This is related to starting a process on one device and completing it on another, like composing an email on your iPhone and completing it on your watch.
Besides, this is one of the coolest feature of the Watch. Handing off tasks like phone calls, navigation and replying to emails to your iPhone allows you to begin a task on your Watch and continue it on your iPhone. Handoff icons will appear in the low left corner of your iPhone display.
Controlling Music Playback
Listening to music on your Watch is simple and enjoyable. You are able to play, pause, rewind and fast forward songs. In addition, you can customize some features to suit your needs. Tap Music to see the available options. You can also connect to the bluetooth headphones and you can be an apple music subscriber.
Apple Watch allows you to fill up to 2 GB of your favorite audio files. You can also listen to any music stored on your iPhone when it is near your Watch.
Create a playlist on your iPhone to sync with Apple Watch and you can only sync one playlist at a time. Don't use your Watch during the syncing process or you'll need to start over again.
Managing Your Appointments
See what's happening tomorrow with the Calendar App and never miss an important moment. The Calendar will send you notifications for all your important events, as is the case with other apple devices.
Now you can carry your important calendar events everywhere with you, on your wrist. The Calendar will give you an overview of the month and let you know how long until a project is due, when you will get paid and other important moments we all face in daily life.
With this app, you will be able to monitor your schedule, manage and view your events, see the details, deal with invitations and so on. Tap the Today option at the top of the app to see a grid view of the current month.
Exercising With the Activity App
You will love this app for monitoring your walking, counting your steps, counting calories that go in and out, tracking your goals and ensuring that your blood is flowing by reminding you to stand up every hour.
The red ring shows the calories you have burnt while the green ring shows exercise levels via the Workout app. The blue line reminds you to stand up. Don't hit zero with the blue line, stand up at least every hour.
If you want to pause your run, go to the Settings, tap Workout, running auto pause. Take a rest and continue when you are ready. This is one of the most useful apple watch tips for physically active people.
You can change your goals by clicking Force Touching in the Activity app. Aim for higher!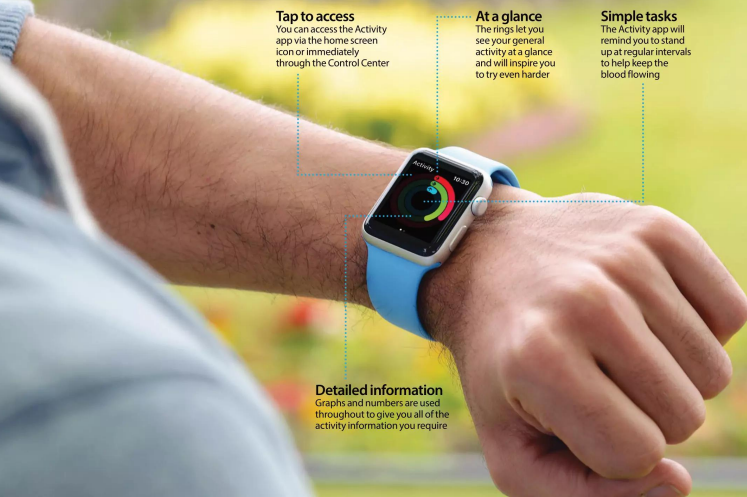 Using Emoji
Animated Emojis can be inserted into messages by tapping the Emoji button when composing a message. Once you tap the button, you can browse the available images and use the Digital Crown to scroll and modify the images. Once you have found the desired image, tap it and it will be inserted into the message.
Sending a Sketch or Heartbeat
The Digital Touch is a feature that allows you to send sketches, taps and other media to your contacts that have an Apple Watch as well. You will like this like all the apps mentioned here, as it will enliven your messages conversation. It can be used by pressing the side button which will display your friend list to select.
Managing E-mails
Check all your incoming emails with a glance at your wrist while you are on the go. Is there anything less time consuming? Mark them as read, unread or delete them.
As an Apple Watch user, you can receive emails on your watch by using the Mail application. Once you open it, you can scroll through the messages using the Digital Crown and select those you want to access.
In order to respond to an email that is read on the device, you will need the iPhone device. Wake up your iPhone and swipe up on the mail icon.
Setting Alarms
Alarms are very important in modern, hectic life. Apple Watch has the ability to set multiple alarms to help you keep up with several events.
To set an alarm, open the Alarms app by taping its icon on the Home screen. Force Touch the display and tap New button. Tap the Change Time field on the Edit Alarm Screen. Then, set hours with the Digital Crown and click Set. To silence the alarm, tap the Snooze button or Dismiss to cancel it.
You can ask Siri to set an alarm for you as well by saying "Hey, Siri, set an alarm for" and then the time. You can also turn on the silent mode, bedside mode, theater mode and other system preferences.
Tracking the Time Around the Globe
This app allows you to see the current time in different locations world wide. It is a helpful tool if you are traveling or collaborating with people who reside in different countries.
First, you need to add cities to the World Clock tab and they'll be visible on the app on your iPhone.
Then, open the app itself, scroll through the list of cities by swiping up or down to get a glimpse of the time there. Tap a city to see more details.
Using the Stopwatch
Stopwatch is used to record the timing of events accurately. Apple Watch can be used to time events up to 11 hours and 55 minutes as a maximum time. It can also be used to track split and lap times, then displaying these results in a list.
The Stopwatch app is a handy and very accurate feature that can keep track of multiple laps and times. Open the app and tap the green button to begin timing. Press the red button to stop timing.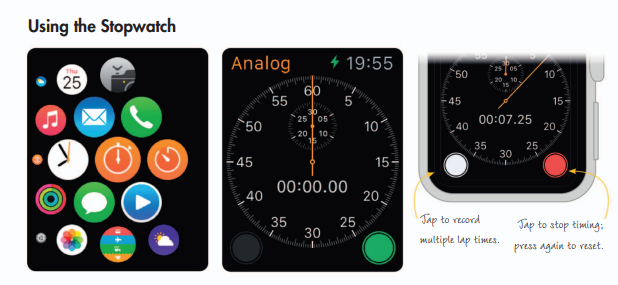 Checking the Weather
Simply glance down at your wrist to check the current weather in your location. Press the Digital Crown and find the Weather app icon. Your local weather will be displayed with the current temperature in the center.
Swipe up to reveal the 10-day forecast for your area. If you have multiple locations in your Weather app, swipe left or right on the display to view them. Swipe down to check the 10-day forecasts.
This feature is useful when traveling and it doesn't lower your battery life. Of course, if you don't like the recent apps you have, you can always delete apps.
Using Apple Pay
This feature of the Apple Watch allows you to make payments quickly and efficiently. Before you can use it, you need to set it up by using the Apple Watch app on your iPhone. Set your cards that Apple Pay will use as the payment source. In case you have multiple ones, select the Default Card.
Getting Directions
The Apple Watch makes it easy to get accurate directions to your destination using the Maps app. The city you're in is located at the top of the display and the blue dot shows your location on the map. Zoom in or out by rotating the Digital Crown.
To get directions and search for locations, open the Maps app and tap Search. Tap Dictation. Speak your search term and tap Done. The results will promptly appear. Tap the directions option you want and the app will make a course from your current location to your desired one. Tap Start to begin and have a safe trip.
Using AirPlay
AirPlay is a feature that allows you to play music through remote speakers or sound systems that support AirPlay.
Tap Music and navigate to the music you wish to play and tap Now Playing. Force-touch the screen and tap AirPlay. Have fun listening to music through your remote speakers.
Controlling Apple TV
Now you can easily control your Apple TV with your Apple Watch because it functions as a remote control. Swipe left and get the main menu, go through the lists and select what you feel like watching. You can also check out the iTunes Radio or the iTunes library on a Mac.
Browsing Your Photos
Apple Watch makes it easy to view your favorite shots with the Photos app. You can sync photos from your iPhone to view them on your watch. To do that, specify the album.
Tap the Favorites icon at the bottom of the screen which is in the shape of a white heart if the photo is not marked as a favorite and a blue heart if it is marked as a favorite.
Photos you mark as favorites automatically appear in the Favorites Album. And what's even better, you don't need your iPhone to view synced photos. Simply tap the Photos icon and tap a photo to view it. Check how many photos you've got by opening the Settings – General – About and scroll down to see the number of stored photos.
Using the Camera App Remote
This app allows you to remotely take pictures using your iPhone's camera app. It is a helpful feature in situations where it is difficult to physically hold your iPhone to take a photo. For instance, when you are taking group photos, selfies, when you want to maintain focus and get better light images in low lighting conditions. The only condition is that your watch must be in the vicinity of your iPhone, around 10 meters.
Make sure the iPhone is in a proper position so it doesn't fall. It doesn't need to be unlocked for the app to work. Adjust the focal point by tapping an area in the view. Press the Timer button to shoot a series of 3 photos after 3 seconds. Tap the Shutter button to take a picture.
Taking Screenshots
There may be situations when you want to capture what's displayed on the screen of your Watch and save it for later reference. Apple Watch has you covered with the ability to take screenshots.
To take a screenshot, press the side button and the Digital Crown at the same time. The display on your Watch will flash white and a sound like that of a camera shutter will be audible. Screenshots you have taken will appear in your iPhone Camera Roll and in your iCloud Photo Library, if you use it.
Using the Workout App
Now you can keep fit with your Apple Watch as it enables users to develop a connection between exercise schedules and healthy life. The app notes down things you do like climbing the stairs, going for a walk or standing. It keeps encouraging you to move. You can edit your health data, adjust your move goal, track your distance and activity.
By using the Workout App, you will gain some inspiration, get ideas for future workouts so you can vary your exercise regime, check your heart rate before and after exercising and analyzing every aspect of your workouts.
Finally, you can review your fitness data in the Health App to help you track your progress and motivate you to keep going. Choose a workout by taping the option you want, select a time, calories or distance goal. As you work out, glance at the watch to track your progress.
Customise Your Breathing
Use the Breathe app to take a moment to breathe and settle your thoughts. It is a virtual meditation – rest your body, focus on your breathing and stop a busy day to have a minute of peace.
Check in on your daily breathing sessions, find out how calm you are and check your records. Another useful option is the health data tab and it also cares for your health.
Saying Goodbye to Paper Tickets
With the Wallet app, you can keep a digital copy of your debit and credit cards, carry your tickets everywhere, make payments directly and all of that with a lot more security.
Access a card by opening it and double-tapping on the top. Open a QR code and you can now make a payment.
Locating Your iPhone
With Apple Watch, there's no need to worry even if you've lost iPhone. Open Control Center and press on the phone icon on the first Control Center page to send a high-pitch tone to your iPhone. You won't even have to give your apple id or anything. It is that easy!
Making a To-Do List
One of the biggest benefits of using the Apple Watch is that it makes easier to get notifications about the things that you need to do during the day. It will help you organize your day and your life.
The app lists reminders that you currently have on your various lists. It allows you to ad new items without any fuss, with ease and it also allows you to see the tasks you have completed.
You can add tasks on your to-do list by talking to Siri. You will be able to see the reminders you have scheduled in the order that they're due to be completed. This will ensure that you don't forget anything.
Personalizing Your Watch Face
Apple Watch face says a lot about you and there are many options to customize it without taking it off your wrist. On your watch section, you can choose between sunset or lunar cycle, change the color of the second hand to suit your personal taste, add calendar , weather, temperature, and once you are happy with your watch face, tap to view and save.
Setting up Do Not Disturb Mode
This mode prevents notifications, calls and reminders and alerts from bugging you. Instead, they will be silenced and a moon icon will appear at the top of apps and watch faces.
You can set a time for how long you want this mode to be activated for, which is ideal for when you are trying to sleep or if you are about to join an important meeting.
Simply open the Settings app, enable Do Not Disturb and check if it is working by the presence of a moon icon at the top of the watch face. This will also lead to power reserve mode.
Altering Volume and Vibration levels
Get rid of annoying alerts and limit vibrations with the Sounds & Haptics menu on your Apple Watch. Open menu, set ringer levels and vibration levels, or choose to mute all sounds. You'll be able to find the mute toggle near the top of the Sounds screen.
Storing Passwords on Your Watch
Keeping track of your logins can be quite difficult. You might write them on a piece of paper or create a note, but there's an easy solution for the Apple Watch.
The 1Password app collates your logins and prevents anyone from accessing them except you. It can be modified to suit your security requirements. Finally, sync your mac password or any that you create to your iPhone or Mac.
Using Facebook Messenger
In case you were wondering, there is a Facebook version for the Apple Watch and it also supports text and voice messages alike.
The thing that makes it stand out from the competitors is the integration of stickers and emojis available on tap, so they make responding to your contacts easy, creative and fun.
Using Google Maps
In case you get lost and don't have your phone at hand, your Apple Watch is your loyal friend in need. It is very easy to use and it gives you directions for just two destinations. Choose between walking, driving, cycling or public transport. You can also see where you are and tap send location to your friends.
Using Uber
Users in over 50 countries are not able to use this app. It will automatically search your area for available drivers. You will get all details that you need, including the name of the driver that's going to pick you up.
It manages to cram a lot of functionality into a tiny space and you can now access it on your Apple Watch.
Note-taking
With Evernote, you can easily create all sorts of notes, collect web articles, hand written notes and photos, so you can access them later. You can also dictate notes and they'll be transcribed any synced to your account.
Following Breaking News
You can now get access to every breaking news story on your Apple Watch by using the ESPN app. You will love this app especially if you are an American sports fan as you will get notifications with live scores of the teams that are important to you.
Or, you can just tap a story to read the shortened, Apple Watch-optimised version. Have fun with this app. Another similar one that gives you access to the hot news is BuzzFeed, the website that shook the Internet.
Getting notifications of Disruptions on Your Journey
Using the National Rail app will make traveling a lot more easier if you are using public transport, which is not always reliable. This app will allow you to view all the critical travel info that you need, from the convenience of your wrist.
The app will notify you of any disruptions on your journey. The notification will flash up on your Watch like any other, offering you the chance to view it or dismiss it.
Learning a Language
That's right, now you can even learn a new language by using your Apple Watch. And it requires only one step – installing a free app called iTranslate. It shows you relevant phrases such as "Good Morning", helping you to associate these phrases with times of the day. Siri can also read out the phrase to you when you tap the loudspeaker icon. Dictating phrases into the app and getting their translation is also a cool feature.
You can also learn a different accents of English with Siri, including Australian, Canadian, Irish, American and British.
Cooking with Apple Watch
Green Kitchen is an app that contains tasty and vegetarian food with a bare minimum of gluten, sugar and dairy products.
Select a recipe, manage your timer and once it ends, Green Kitchen will tell you what your dish should look like. Then, it is only left to enjoy the dish.
This one costs around 3 dollars and it is up to you to decide whether it is worth it.
Using the Blood Oxygen App
Like the fitness app, the blood oxygen app takes care of your health. The app will frequently measure the oxygen level in your blood and notify you. Simply open the Settings and tap Blood Oxygen. It is a Watch app that you will love and new apple watch owners knew what we all need in modern, hectic life.
Brain Training
Peak is a free professional app for helping you improve your memory, focus, problem solving skills, mental agility and languages with a lot of challenging games and building healthy habits.
Now you can use it on your Apple Watch, too. To get started, select one of the three games, concentrate, answer questions and toast your success.
Finding Your Friends
The Find People watch app uses the GPS in your Apple Watch to show your location and the location of anyone who's given you permission to see their location. This can be an informative and fun way to see the whereabouts of your spouse, kids, friends or colleagues and pay them a surprise visit.
Open the Find People app and see the list of your friends. Tap your friend's name to see their location on a map. If you want to share your location, open the app and select Share My Location and compose a message to someone.
Playing Games
Have fun playing various games like Wordie, which is now playable on your wrist. You will see four photos and have to guess the common word between them. For instance, you see a photo of people picking up trash in bags and a woman undergoing facial surgery and a vinyl record. The answer would be plastic. Some other games you can play are Cosmos Rings, Trivia Crack, Pocket Bandit and so on.
Final Words
Taking into account the number of apple watch tips and tricks we have listed here, with their practicality and relevance for daily life, it cuts no wonder why Apple Watch has become an indispensable tool for so many people and why apple logo is so widely acknowledged.
With it, you can check your blood oxygen, read latest news, set an alarm clock, check the location of a family member, use fitness tracking apps, messages app, noise app, sleep tracking app, ecg app and all your favorite apps. You can manipulate the whole app layout to suit your needs. Stay tuned for any software update so you can enjoy new apple watch features.
See more video here:
Related